Trello Your entire project, in a single glance. Organize anything, together. Trello is a collaboration tool that organizes your projects into boards.
Today  we are going to present a best project collaboration tool that i have ever seen and used. Its really worth if you thinking to maximize your business profits, enhance your team collaboration , achieve Project delivery time and dates, manage your supplies, need to save what your are thinking in a systematic way. I love to use this for sharing my thoughts with colleagues and to collaborate with team members. Its very easy to assign a task to any member or to add a member to project board. You can easily share your ideas, contents, project details and even assign deadlines to them. Monitoring is so easy and its just a cards to play with them and all work burden gone.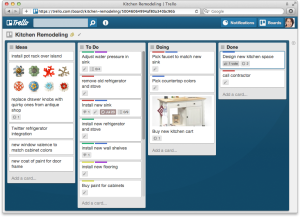 My team members and colleagues are very happy with this tool and now its not a problem of they are offline or online, we can update our task details any time so others members can see them when they will online. Layout is too good and easy to use, its just moving cards, assigning members, adding descriptions, coloring the cards to find or identify easily and lot of more that you have to reveal and must use this tool.
Here are some reason why you should use it.
Instant clarity on any project
Infinitely flexible. Incredibly easy to use. Trello keeps track of everything, from the big picture to the minute details.
It's all in the cards
Use cards to jot down nuggets of information, from everyday to-dos to fleeting strokes of genius. And don't worry about running out—we have an unlimited supply.
Neatly organized, even in a tornado
Put your cards in lists to track progress, categorize things, or just make sense out of the chaos of life. Lists are fully customizable, and also terrifically wind-resistant.
One Card with many features
Trello The Front
Get a quick overview of all the information that's on the card.
Trello The Back
Add all kinds of information: due dates, checklists, attachments, comments, and more.
Don't forget a thing
Add a checklist to keep on top of all those little to-dos. There's also a nice, big progress meter, because who doesn't love a nice, big progress meter?
Your files, right where you need them
Got a relevant file, image, or document? Attach it right to the card, and you'll never have to go scrambling through your inbox looking for it later.
Bring your board to life
Attach photos, drawings, sketches, and mockups to quickly illustrate ideas at a glance.
Find cards easily
Customize labels for your cards, and use filters to only show what you want. You can also filter by keywords and by person (if you're on a team).
Never miss a deadline
Attach a date and it will appear on the front of the card. When that date is approaching, it will turn yellow as a gentle reminder.
See into the past
Trello keeps a record of everything that's happened on the card: comments, changes, additions. You'll never wonder "How did that happen?" again.
Get everyone onboard
Invite as many people as you want to a board. Board members can all add cards, make changes, upload attachments, and more.

Collaborate in real-time
Changes made by others appear instantaneously on your screen. You never have to wait for a page to reload to see the latest.
Assign tasks
Assign cards to board members, and everyone will be able to see what everyone else is working on. The assigned folks also get handy notifications sent to them.

Gather opinions
Board members can vote on cards, so you know what everyone's priorities are. Gain insight into what the team thinks and make informed decisions.
See yourself what others are saying about it.
"Trello helps me remember ideas, collect needed supplies and keep an eye on the big picture. Now when I go to my studio, I have a clear idea of what needs to get done that day."

- Jessica S. artist
We have no time for overhead, but Trello lets us track an enormous amount of detail with ease. It adapts to your process, and then stays out of your way."

- Jason G. independent filmmaker
"I juggle many different projects and deadlines constantly, and Trello is ideal for keeping track of it all. The interface is streamlined and simple—the very definition of intuitive."

- Charlie S. writer and lyricist