How to Start an Online Business in Pakistan
Today lot of people searching about how to start online business or how to earn online. There are many blogs and many people who are offering services to help for online earning but mostly are fake or charge too high. So i am writing this article to help those who want to start an online business online specially those who are living in Pakistan.
The Essential Steps to Starting a Sustainable Legal Internet Business.
Who am I anyway and why should you listen to me?
First of all What this article is not about and What this article is about
What this article is not about
 

Get rich quick schemes

 

Home businesses

 

PTC sites

 Other scams

Freedom is equal to un-productivity
 

What this article is about
Effort, time and dedication into building an online biz model that pays dividends over the years to come
Passive income generating opportunities
Doing what you love and loving what you do
Fear Factors
I will show you an info-graphic of How to start an online business. Its also applicable for Pakistani visitors.
Some Types of Online business that you can also start from Pakistan. I write Pakistan again because this article applicable to all countries visitors but as i am from Pakistan i want to help all Pakistani students and all who want to earn online but they have some fear inside. Some have fear of money and some have fear of how we can succeed.
If you still thinking that it will work or not and want to know more about success stories in Pakistan than read this Pakistani Success stories
In this article i am discussing about first option that is freelance services.
Freelance Services
Working as a freelancer will give you freedom of work. Its quick to start and you have complete control and freedom in term of timing and flexibility of working. You have whole world as a target market and you can convert your contacts into client and create long term relationship that will also work as word of mouth.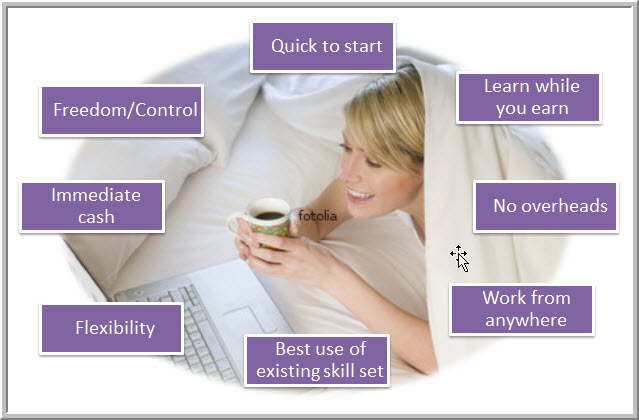 Starting career as a freelancer is not difficult and not have any chemistry just you need to be handwork, creative, consistence  and good learner. Start freelancing just in few steps
Choose your niche / specialty
Find freelance projects
Build credibility
Start marketing like crazy

Get paid
 

Choose your niche / specialty

Choose your category in which you have experience and skills. Choosing the right category and right skills is very necessary for profile that represent yourself and used for selling yourself in market.

Choose in which you can deliver the best and that is your vision.
Find freelance projects
Finding the freelance projects is easy process you can find projects in many ways like freelance websites odesk, freelancer.com, Elance.com etc or through social media, email.
Through interaction on social media you can easily find freelance projects
Building relationship and interact with them through email can give you freelance projects
Freelance project bidding side are major resource to find projects and also they can provide you initial platform to enter in freelancer world.
There are many job boards that you can visit and you can find few projects from them.
Build credibility
Building credibly to work as a freelancer is like your personal image. You should have grip on proposal writing and also provide sample of your past work to client and building your personal portfolio can impact on your credibility. I always prefer and advice to create portfolio that represent yourself in positive manner.
Start marketing like crazy
Get paid
Getting paid is last and important step for every freelancer. Many freelancer have fear about how we get paid and what are ways for that. But in real its very easy process and every one just follow basic instruction.
A/C Holder Name
A/C Number / IBAN
Bank Account Type
Bank Name
Bank Country
Bank ID Type (you will choose SWIFT here for international wire transfers)
Bank ID Number (8-11 characters)
Bank Address
Bank City
Bank Province
Bank Postal Code
ONLINE PAYMENT PROCESSORS
 Pakistani freelancers in action!
 You can see Pakistani freelancer in action and they are still growing day by day. This is not just end of this article actually this is a start of your freelance career and any one can easily earn by following these steps. So this article is about just one way to earn online read my other posts for other methods of earning online.
I appreciate any feedback from you and addition from freelancer always welcome. I will post second part of this article soon so visit this page to get updates.

This article is written by Jamil Ahmed, follow him on Linkedin. He is Co-Founder at Prepareddevelopment.com and you can contact him through email [email protected]